Rave Reviews
Frequent guest host on COAST TO COAST AM Dave Schrader speaks about his visit to Intrigue theater.
Bill Evans, International President of the International Brotherhood of Magicians (IBM)

Bill Evans, International President of the International Brotherhood of Magicians (IBM)
the worlds largest Magic Organization came to Intrigue Theater to see
Sean-Paul the Illusionists and Juliana Fay as the Medium. These are his comments after the show.
National Public Radio Stationed Correspondent Jacqueline Froelich,
The Following story was produced by National Public Radio Stationed Correspondent Jacqueline Froelich,
Senior News Producer for KUAF Public Radio 91.3fm.
Video was added by Intrigue theater.
Porter County Fair's Entertainment Mecca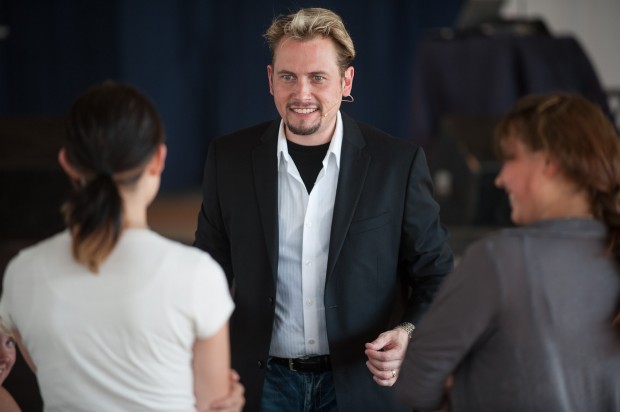 "They should perform in Vegas"
July 26, 2012 9:11 pm • By Heather Augustyn Times Correspondent
WASHINGTON TOWNSHIP | The Mentalists Sean-Paul and Juliane stunned the audience at the Porter County Fair on Thursday evening as they took a member of the audience, blindfolded him, and then somehow poked him on the back of each shoulder by putting a pin in a voodoo doll.
Afterward, that audience member, Brandon Welshan, of Portage, said he was not a believer in voodoo, but believed the duo was good at their craft.
"I think they're very good magicians and very entertaining. They're really good at it," Welshan said.
The Mentalists act, which also involved card tricks and number tricks that seemed as if Sean-Paul and Juliane were reading the minds of the audience, as well as spoon bending and correctly guessing imagined images and words on the page of a book, was one of the many new free shows at the fair this year.
Others included Divas Through the Decades, the Okee Dokee Brothers and Galaxy Girl, to name a few.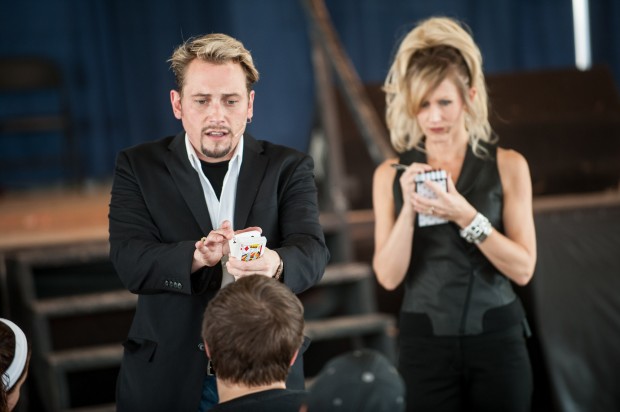 The Okee Dokee Brothers, a countrified They Might Be Giants-like band, had people in the bleachers stomping their feet despite a light sprinkle of rain.
"Instead of clapping at this point, we're going to slap our knees like hillbillies," said Joe, the guitarist of the band who was accompanied by banjo-playing Justin.
Divas Through the Decades featured three women in fluorescent-fringed frocks with jazz hands who sang perfect harmonies.
For Mavis Hernandez, of Hammond, who came to see The Mentalists with her husband, the show was better than anything they had ever seen.
"It was mind-blowing. We see a lot of shows and mentalists in Las Vegas because we go there a lot, but they were much better. They should perform in Vegas," Hernandez said.
LITTLE ROCK — Illusionist Sean-Paul of the Eureka Springs Intrigue Theater stood smiling while cocooned inside a straitjacket facing at least 300 onlookers gathered on the lawn of the 126-year-old Historic Crescent Hotel and Spa last week.
The calliaphone music that provided the pre-show buildup grew silent, as did the speakers and a dozen or more citizens dressed in 1900s period costumes who watched with the rest of the audience.
The 41-year-old showman was about to be hoisted upside down by his ankles where, while suspended in midair by a metal cable capable of holding 4,000 pounds, he would try to repeat an escape made famous during the early 1900s by the late magician and illusionist Harry Houdini.
As a whirring electric motor slowly lifted him to the third-floor balcony of the hotel, billed by some in the media as "America's Most Haunted Hotel," the crowd watched in silence, wondering how this man born in Minnesota could possibly free himself from the cloth restraint wrapped, belted and tied fully around his arms and body.
After all, the handsome fella looked like a mummy from the waist up as he steadily rose to what looked to be about 100 feet.
The straining motor finally stopped. The only sound was birds chirping in the surrounding trees.
At first, Sean-Paul twisted and turned and managed to work the rear restraint straps over his head. Then he methodically freed his arms and hands to begin releasing each strap that was individually buckled in the back. After only a minute, he was holding the jacket in one hand and victoriously dropping it to the ground. The audience, which also included wide-eyed public-school children, clapped and cheered as he was lowered back to Earth to take a bow.
This outdoor show beneath a pastel blue sky was open to the public. It was part of the Crescent's effort to call attention during the month of October to the hotel's national reputation for mysterious and ghostly experiences.
This has been dubbed "The Month of Houdini" in Eureka. And what better time for such sport than the month that ends in Halloween? Chances are you can still watch Sean-Paul's remarkable escape for yourself on the video page at eurekaspringsonline.com.
But Paul isn't through escaping this month. His next challenge (like the straitjacket trick, also issued by Don Lee, the editor of the city's weekly Lovely County Citizen) will be to escape from a flooded, padlocked 40-gallon milk can while handcuffed. That will come on the evening of October 20 at the Basin Park Hotel.
Bill Ott, my former classmate at UCA, who today directs marketing and communications for the Crescent, said Sean-Paul and his wife Julie also plan to spearhead a "paranormal party" aimed at calling up Houdini's spirit at a midnight seance in the Crystal Ballroom. And what better place to call him over than at the country's most haunted hotel, Ott says.
Neither Houdini nor P.T. Barnum had anything on the abilities of my jovial friend Mr. Ott.
The milk-can trick is no place for claustrophobics. I examined the metal can Sean-Paul plans to use and I just gotta say, valued readers, that it gives me more willies than the straitjacket in-midair routine. But I also realize that Sean-Paul has got this escaping thing figured out, especially if he's ready and willing and eager to perform his feats in front of an audience.

From what I could tell, along with other comments from other writers and broadcasters attending his airborne escape at the Crescent, Houdini himself would have been hard pressed to have pulled it off any better. And that's saying something.During his lifetime, which ended prematurely from a ruptured appendix in 1926, Houdini became the world's most famous escape artist, finding seemingly miraculous ways to set himself free in a matter of minutes, whether it be from straitjackets, handcuffs, iron bars, submerged wooden chests and even the padlocked and flooded milk can that Sean-Paul soon will enjoy.
He traveled the U.S. and Europe dazzling audiences with his mystical ability to work his way free from any container others wrapped, locked or sealed him inside.And so I had been anxious to see Sean-Paul emulate the great one in his famous escape while hanging in the air.
His exploits proved to be big doings in these parts. In fact, it was a big enough event in the arts and entertainment city to be aired on the local cable program. Dan Timbrook, the popular morning show host at KHOZ in my hometown of Harrison, even made the 40-mile drive to broadcast the doings live on his program.
While this grand old lady of lodging high in the Ozarks is proud of its widespread designation as America's most haunted hotel (national cable shows and websites have featured its reported hauntings) and even hosts a nightly ghost tour, I've always found the stately place to be far more serene and relaxing than spooky.
But then, neither am I that easily frightened.
Mike Masterson's column appears regularly in the Arkansas Democrat-Gazette. Email him at [email protected].

The video of today's escape can be seen on the video news page of eurekaspringsonline.com. For more information on the upcoming Houdini activities and other paranormal activities at the 1886 Crescent Hotel & Spa, a Historic Hotel of America, one should go to americasmosthauntedhotel.com.
Chills and Thrills Galore!  On Thursday Oct 4, responding to a challenge by the Lovely County Citizen and editor Don Lee (in top hat), Illusionist Sean-Paul of Intrigue Theater risked Life and limb to reproduce a terrifying escape by one of the greatest magicians of all time, the legendary Harry Houdini.  In front of a large crowd at the 1886 Crescent Hotel, Sean-Paul was hoisted up five stories by his feet while secured by a tightly bound straight jacket.  To the relief of all, he pulled off the feat without injury. This event is par of an October Celebration of Houdini by Intrigue Theater and hosted by the Crescent.  On Saturday, Oct 20, at 7 p.m. in Basin Spring Park, Sean-Paul will be handcuffed  stuffed into a 40-gallon milk can filled with water and the lid sealed with four padlocks.  And to round out the month perfectly, the Crescent will host a seance with Intrigue Theater on Halloween At midnight to summon the spirit of the Great Harry Houdini.